Book Detail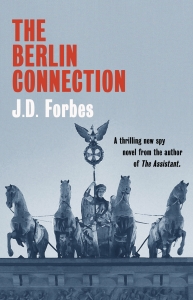 The Berlin Connection
Price: $24.99
by J.D. Forbes
A thrilling new spy novel from the author of The Assistant
One unplanned venture into the world of international espionage should have been enough for photographer Byron Clarke. However, the irresistible urge to once again partner seductive CIA agent Lucia Vega has him returning to the enticing James Bond lifestyle. A seemingly straightforward assignment in Berlin takes a lethal turn when Byron finds himself face to face with ex-STASI assassin Wolf Kessler.
In their quest to bring down psychotic Kessler they find he is quite prepared to commit mass murder to maintain his freedom.
Time begins to run out for Byron and Lucia in a pulse-racing climax in the Andaman Islands.
How to Order
Place an order by either email or post:
Send cheque or credit card details with expiry numbers to
Email: markzocchi@brolgapublishing.com.au
Or GPO Box 12544 A'Beckett Street Melbourne 8006