Book Detail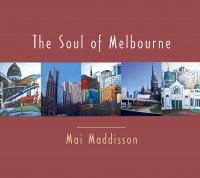 The Soul of Melbourne
Price: $24.99
by Mai Maddisson
Melbourne and surrounds through photography and paintings
The Soul of Melbourne explores Melbourne's suburbs and scenery from the CBD to the outskirts of bushland, factories and riverways.
Through photography, painting and drawings, local artist Mai Maddisson takes us on a journey that blends her perspectives by hand with those through a lens to capture a unique and vibrant look at Melbourne.
A perfect book for visitors and locals alike, The Soul of Melbourne will have you looking at the city and your home in a new and interesting way.
How to Order
Place an order by either email or post:
Send cheque or credit card details with expiry numbers to
Email: markzocchi@brolgapublishing.com.au
Or GPO Box 12544 A'Beckett Street Melbourne 8006