Book Detail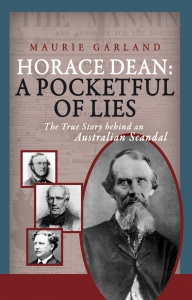 Horace Dean: A Pocketful of Lies
Price: $26.99
by Maurie Garland
The true story behind an Australian scandal
Bitter rivals in a small district. Political enemies caught in a web of lies. This is the true and gripping account of Horace Deanís duel with George Fife Angas.
George Fife Angas arrived in Adelaide in 1851, feted as the father and founder of South Australia. Extremely wealthy and religious, he settled near Angaston in the Barossa Valley, the town named after him.
The American-born Horace Dean had arrived in this Colony in 1849. A Doctor and Magistrate of high repute, he became the first Mayor of Angaston. But was he who he said he was?
The popular and charismatic Horace Dean later moved on to New South Wales, where he published and edited a newspaper; became a Member of Parliament; and was elected Mayor of Grafton. And controversy followed him everywhere.
Maurie Garland, author of The Trials of Isabella Mary Kelly and Jimmy Governor: Blood on the Tracks, as well as an editor of The Swiss Swagman, examines the lives of Horace Dean and George Fife Angas to reveal the truth beneath the lies.
How to Order
Place an order by either email or post:
Send cheque or credit card details with expiry numbers to
Email: markzocchi@brolgapublishing.com.au
Or GPO Box 12544 A'Beckett Street Melbourne 8006