Book Detail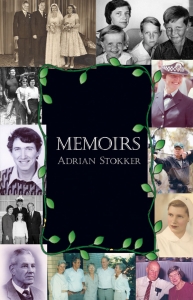 Memoirs
Price: $24.99
by Adrian Stokker
A life well lived
Written from the heart as an ode to his family and loved ones, Memoirs by Adrian Stokker is a book that looks at the life of one man. Spurred by the death of his father, and the reuniting with his then separated wife, Stokker has penned his memoir so future generations can learn from his life experiences.
Born in Holland and educated in Singapore, Stokker writes honestly about growing up in many countries and settling in Australia, about the struggles we all face with finding our way and coming out the other side.
While an account of just one manís life this memoir does have familiar aspects that all readers will relate to and is written in an absorbing and dedicated way.
How to Order
Place an order by either email or post:
Send cheque or credit card details with expiry numbers to
Email: markzocchi@brolgapublishing.com.au
Or GPO Box 12544 A'Beckett Street Melbourne 8006