Book Detail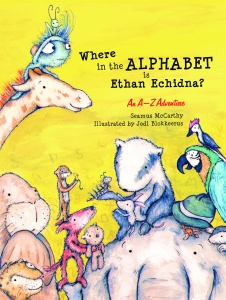 Where in the alphabet is Ethan Echidna?
Price: $19.99
by Seamus McCarthy, illustrated by Jodi Blokkeerus
An A–Z adventure
A is for an Alphabetical adventure
Beginning with a bright young boy
Chasing his way through our story
Determined to find his toy
Echidna is the toy on the run
Fleeing along in this race
Galloping through each page
Hiding as we give chase
In case you're wondering how to help
Just search for our little friend
Keeping in mind he could be anywhere
Lurking in pages from beginning to end
Local illustrator Jodi Blokkeerus has teamed up with entertaining children's author Seamus McCarthy to bring you an alphabet book full of mystery and intrigue. Ethan the Echidna is on the hunt for the missing toys and you must help him find them and his way through the alphabet from A to Z.
An educational children's book that adults will love too.
How to Order
Place an order by either email or post:
Send cheque or credit card details with expiry numbers to
Email: markzocchi@brolgapublishing.com.au
Or GPO Box 12544 A'Beckett Street Melbourne 8006