Book Detail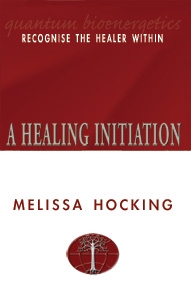 A Healing Initiation
Price: $24.95
by Melissa Hocking
Recognise the healer within.
Journey into the extraordinary healing ability already within you, an ability unprecedented in our time, in "A Healing Initiation".
An enormous range of clientele, bearing an enormous range of illness, ailment and injury, have benefited and continue to benefit from healing sessions implemented through Melissa Hocking. When healings are reported from cancers, mental illnesses, Chronic Fatigue Syndrome, physical injuries, a variety of disabilities including cerebral palsy, ASD (Autism) and many other serious afflications, the question become obvious. How?
Melissa Hocking accompanies you on your own journey of healing discovery, candidly imparting lessons and wisdom born of her own experience throughout, so that you may ignite the healer within you. Melissa's own journey, a diverse cross-over of science and the spiritual, has proven itself an enormous incidental education into the healing evolution of the human energy anatomy.
Quantum-based frequencies, newly discovered, are bringing about healing as never before. Through actual hands-on lessons, you are enabled to access this amazing gift, learning to facilitate this extraordinary healing process in Quantum BioEnergetics. Empowering, you will discover a gift, a strength and a unique perspective of yourself, in the unfolding of this amazing, readily accessible healing gift within. For often the physical healing, as miraculous as it may be, is the least of it.
Right now, even as you read these words, you already have the ability to access these frequencies and in doing so, you can become both a healer of self, and a healer of others, utilizing the Quantum BioEnergetic Balancing Technique.
How to Order
Place an order by either email or post:
Send cheque or credit card details with expiry numbers to
Email: markzocchi@brolgapublishing.com.au
Or GPO Box 12544 A'Beckett Street Melbourne 8006