Book Detail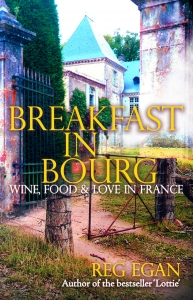 Breakfast in Bourg
Price: $24.95
by Reg Egan
Wine, food and love in France
Will is one of the most successful Barristers in Melbourne, but there is a hollowness to his "success" and he and his wife Alice are growing further apart.
Nathalie is married to a merchant banker in Paris, but she has deserted the capital for life on her newly acquired vineyard in the beautiful wine growing region of Bourg just across the estuary from the famous vineyards of the Medoc.
When Will is offered a lucrative brief in a London court case but he arrives only to find the case adjourned for an imprecise period. Instead of returning to Australia, he decides to go to France, recalling the lovely town of Bourg and the surrounding wine country.
There he meets Nathalie over a cup of coffee and launches into work as a picker at her vineyard and cellar-hand at her father's winery. Seduced by the lifestyle, the region, and even Nathalie herself, Will takes a happy holiday from his own life. But how long can – or should – this idyllic interlude last?
How to Order
Place an order by either email or post:
Send cheque or credit card details with expiry numbers to
Email: markzocchi@brolgapublishing.com.au
Or GPO Box 12544 A'Beckett Street Melbourne 8006