Book Detail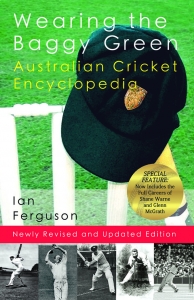 Wearing the Baggy Green 2nd Edition
Price: $39.95
by Ian Ferguson
Revised and updated with special features on Australia's top players
Wearing the Baggy Green by Ian Ferguson is an Encyclopedia of Australian Test Cricket. All the players who have represented Australia since 1877 are featured, including short biographies, interesting information and statistics.
Wearing the Baggy Green covers Cricket in the Depression era, Post World War 11, and the 2005 Ashes series. This is a must for all cricket fans: statistics, photographs, potted histories, statistics, controversies, statistics - did I mention statistics? Cricketers love stats.
This revised and updated edition includes a special feature on the full careers of Shane Warne and Glenn McGrath – two of Australia's most popular sporting celebrities.
AVAILABLE JANUARY 2008
How to Order
Place an order by either email or post:
Send cheque or credit card details with expiry numbers to
Email: markzocchi@brolgapublishing.com.au
Or GPO Box 12544 A'Beckett Street Melbourne 8006