Book Detail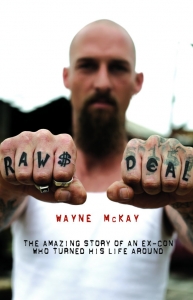 Raw Deal
Price: $24.95
by Wayne McKay
Amazing true-crime autobiography
Wayne McKay ain't no Chopper Reed wannabe. He is however an ex-heroin addict, speed addict, pill popper, street criminal, victim of the system and Raw Deal is the story of his life.
A true crime autobiography, McKay details life on the street, in jail and without friends and family to count on. It is one man's tale of how a life of hardship, brutality and little meaning can turn around once you find a little hope. From brutal bashings, hard crime and sexual abuse, comes the triumph of a spirit through art, tattoos, music and poetry.
A story you have to read to believe.
How to Order
Place an order by either email or post:
Send cheque or credit card details with expiry numbers to
Email: markzocchi@brolgapublishing.com.au
Or GPO Box 12544 A'Beckett Street Melbourne 8006