Book Detail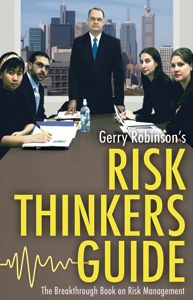 RiskThinkers Guide
Price: $29.95
by Gerry Robinson
The breakthrough book on risk management.
Welcome to the practical guide explaining corporate governane and compliance. Follow a step-by-step process to create a risk management process in a day. Simple templates provide solutions and help you manage your people's expectations. Stun the CEO by delivering the process in a day and implementing it in a few weeks.
Gerry Robinson is a respected risk consultant with over thirty-five years of experience in Australian business. He has worked in the public sector, as a consultant with a major accounting firm, as Olympic risk manager and in the insurance industry. He has assisted hundreds of organisations to identify and manage risk.
How to Order
Place an order by either email or post:
Send cheque or credit card details with expiry numbers to
Email: markzocchi@brolgapublishing.com.au
Or GPO Box 12544 A'Beckett Street Melbourne 8006