Book Detail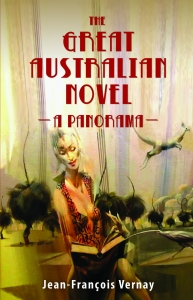 The Great Australian Novel – A Panorama
Price: $24.99
by Jean-François Vernay
An innovative look at the novels that have shaped Australian literature
Written originally for a French audience to inform them about the richness of Australian writing, The Great Australian Novel – A Panorama now appears in a re-mastered English version. It is a story of Australia, its people and ideas, its history and geography as revealed through the exciting genre of the Australian novel.
As the title indicates, the book has an innovative cinematic structure containing 35 inserts: 'Close-ups' of an author, 'Low-angle shots' for the 'greats'— novels and/or authors, 'Panoramic views' for themes or the career of specific writers and Bonus items such as a bibliography and an index.
The author speaks directly to the reader in a free-flowing narrative that is concerned with involving the reader emotionally and intellectually.
Highlighted along the way are contributions by women, non-Anglophone and Aboriginal authors, as well as the most recent trends in writing. A timely book for the general reader that will stimulate an interest in Australian literature.
How to Order
Place an order by either email or post:
Send cheque or credit card details with expiry numbers to
Email: markzocchi@brolgapublishing.com.au
Or GPO Box 12544 A'Beckett Street Melbourne 8006

if($noOfRtBooks) { ?>