Book Detail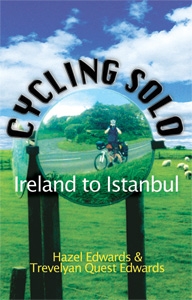 Cycling Solo : Ireland to Istanbul
Price: $19.95
by Hazel Edwards and Trevelyan Quest Edwards
From Ireland to Istanbul with bike and blog.
Blogging is the new electronic autobiography!
In "Cycling Solo", Trevelyan has found his voice, but the bike is in bits!
29-year-old cyclist cartographer Trevelyan is a candid observer as well as a survivor; camping on a budget of next-to-nothing while cycling alone for five months. No watch, just a compass and a web log (blog).
From Ireland to Istanbul, with forgettable campsites, random kindnesses, punctures, falls and steep kilometres in between, this off-best quest with the upside down "Reflection of Blogging Bicycology" from a home viewpoint is worth sharing. Quest is his real middle name.
Mother-son co-authors are unusual collaborators but at three, Trevelyan inspired "There's a Hippopotamus on Our Roof Eating Cake", and recently helped with Darwin research for the novel "Outback Ferals". Orienteering was a family sport which meant map reading and getting lost were weekly challenges, but the family that writes and explores together, stays together.
How to Order
Place an order by either email or post:
Send cheque or credit card details with expiry numbers to
Email: markzocchi@brolgapublishing.com.au
Or GPO Box 12544 A'Beckett Street Melbourne 8006

if($noOfRtBooks) { ?>