Book Detail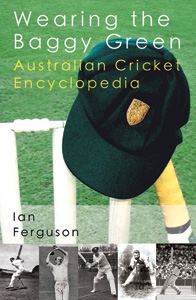 Wearing the Baggy Green
Price: $39.95
by Ian Ferguson
An Australian cricketing encyclopedia, featuring entries for all Australian test cricket players.
Australian captain and hero Steve Waugh once said of his baggy green cap, "My love of what it stands for makes it my prized possession. I saw the stains, tears, fading and fraying as badges of honour. To trade it in would have been a betrayal."
The baggy green has long been a symbol of Australian Test cricket. Nearly 400 exceptional athletes have worn it, representing their country, from the first Test in 1877 until the present day. "Wearing the Baggy Green" honours every one of them.
From Armstrong to Border, from Trumper to Ponting, every Test player in Australian cricket history is listed, in their official selection order. The Ashes, Bodyline, Bradman and the cricket revolution all feature as Ian Ferguson presents an encyclopedia of Australian test cricket, supported by statistics, photographs and over a century of cricketing highlights.
How to Order
Place an order by either email or post:
Send cheque or credit card details with expiry numbers to
Email: markzocchi@brolgapublishing.com.au
Or GPO Box 12544 A'Beckett Street Melbourne 8006