Book Detail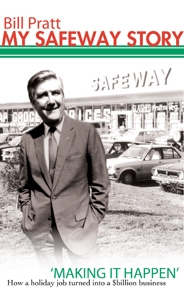 My Safeway Story: Making it Happen
Price: $29.95
by Bill Pratt
How a holiday job turned into a billion dollar business.
When Bill Pratt took over Pratt's Store in the outer Melbourne suburb of Frankston in 1946, his plan was to sell the small grocery business for a profit within a few months. Instead, he discovered a taste and a talent for retailing. What began as a holiday job for a young engineering student turned into a billion dollar enterprise that changed the face of the Australian grocery industry.
A pioneer of self-service and supermarkets in the 1950s, Bill Pratt caught the eye of US company Safeway and in 1963 his company of three stores merged with the giant supermarket chain. He took the helm of Australian Safeway in 1967 and by 1985, there were 130 Safeway stores operating throughout eastern Australia.
Always, Bill Pratt has acted according to his philosophy that 'nothing comes easy, but there is always a way'. As a result, this book is not only an enthralling memoir of the revolutionising of a major part of our modern way of life, but also a spirited and inspirational guide to success in retailing, and in life.
How to Order
Place an order by either email or post:
Send cheque or credit card details with expiry numbers to
Email: markzocchi@brolgapublishing.com.au
Or GPO Box 12544 A'Beckett Street Melbourne 8006

if($noOfRtBooks) { ?>