Book Detail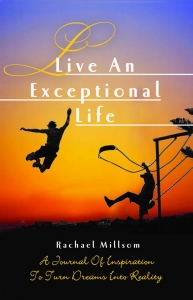 Live an exceptional life
Price: $29.95
by Rachael Millsom
Turn your dreams into reality!
Have you ever set a goal in your life but gave up before you reached it? This inspirational journal combines practical exercises with motivational quotes to help you to realise your goals and live the life you want to.
This book includes goal setting pages that help you to focus on what is important in life. It has space for writing weekly plans to prioritise goals, and tasks to help you realise what you really want to achieve in your life.
Rachael believes that people who set goals are not only more likely to achieve what they set out to, but will create a greater life in the process. This belief is followed throughout the journal, with motivational quotes from inspirational teachers, such as Deepak Chopra and Steven R Covey.
It's a great tool for absolutely anyone and everyone, from life coaches and counselors to individuals wanting to add more meaning to their lives.
How to Order
Place an order by either email or post:
Send cheque or credit card details with expiry numbers to
Email: markzocchi@brolgapublishing.com.au
Or GPO Box 12544 A'Beckett Street Melbourne 8006