Book Detail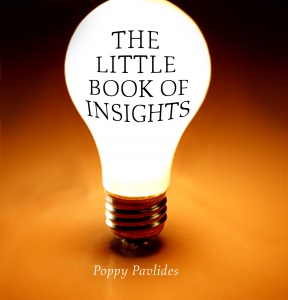 The Little Book of Insights
Price: $14.95
by Poppy Pavlides
Come face to face with the real you!
Take a journey of discovery with Poppy Pavlides. This unique and inspirational book provides motivational quotes and mantras as well as an insight into who you really are by asking the big questions.
This book can also be used as a source of support and a guide to learning to use your intuition – ask a question and open the book at a page which you feel is apropriate to discover your answer.
So full of insights, motivation, inspiration, empowerment and truth, you will soon come face to face with the true YOU!
How to Order
Place an order by either email or post:
Send cheque or credit card details with expiry numbers to
Email: markzocchi@brolgapublishing.com.au
Or GPO Box 12544 A'Beckett Street Melbourne 8006